LUCKY SON OF A GUNN
Feb 01, 1996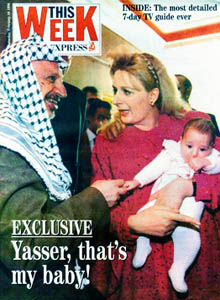 A bank robber turned down-and-out author heads for fame in the film world.
On a cold winter morning Richard "Lucky' Gunn is standing on the pavement in London's Hatton Garden. He could be any middle-aged Irishman going off to work. Until, that is he starts to lag thirstily from a can of super-strength lager or slaps two dented spoons against his arms, shouting: "I love you," at every woman that passes by. Behind him is St Mungo's Hostel for the homeless. "Inside there is my shelter," he growls sarcastically, "but in reality it's a prison where I have the key to my own cell."
But although Lucky may be a down and out, he is also a successful author who is on the verge of Hollywood stardom.
In the spartan surroundings of his room he explains his predicament. "I'm an alcoholic and I can't give the booze up, not for the moment anyway. I walked out 16 months ago on my girlfriend of seven years and my baby daughter to begin a new life sleeping rough on the streets. Then, three months ago, they put me in here after I collapsed on the streets with pneumonia. You think I don't miss my girlfriend and daughter? You bet I do, but I'm not going back until I'm sober and supreme. First I'll fight the devil and then I'll conquer the earth."
Lucky's life is the story of the ultimate rebel without a pause and alcohol is just one of the many demons he has fought. "I've been a bank-robber and a fraudster, but I've been going straight for the last 16 years. I live now for my writing. I write like an angel."
The Hoochman, a novella Richard wrote while in Wakefield prison, may make him famous. Metropolis Media, a London production company, has bought the rights to the story and has adapted it as a screenplay for a Hollywood-cast film. the company hopes shooting will begin this year. The novella, a real-life, no-holds barred whodunit centres around how Lucky sought to prove the identity of the murderer of another inmate while fighting in-house corruption in a correctional institution.
Simon Bramley, the head of development at Metropolis Media describes the Hoochman as: "A fierce, foul-mouthed, drunken and bent tale about a crook who uses his intelligence to outwit the law."
The novella was published in America in the Journal of Irish Literature in 1992. Its proprietor, Professor Robert Hogan, is in no doubt about Richard's prose. "Richard Gunn is a very individual talent. My outfit published a lot of Irish writers, Brendan Behan and Flann O'Brien included. Gunn's stuff was right at home among such heady company."
He was born 54 years ago in Listowel, County Kerry, and as a child he had a keen interest in literature. "My teacher was the novelist Brian MacMahon and he encouraged me to read." However, tragedy changed the course of Lucky's life. "I was only eleven when I saw my mother collapse and die at my feet. She was the love of my life. I told my father there and then that I was leaving to travel the world."
Travel Richard did-first hitch-hiking to Dublin then conning his way onto a Wales-bound cattle ferry with just a half-crown and a sandwich in his pocket. He eventually went to stay with his elder brother in Hampshire, but his brother couldn't support him and Richard was soon forced into a life of petty crime.
"Can you believe it? I was sent down for three years to an approved school on the Isle of Wight for nicking a loaf of bread. I said then that if I can get three years for petty thieving, I might as well rob banks. So that's what I did and I worked with the best. For ages our gang was doing all right, but then we were grassed on. I'm going back now to 1968. We were done for 14 counts of bank robbery and I was sent down for seven years.
"In prison I was a rebel and they were constantly moving me from one prison to another. They finally shanghai'd me to Aylesbury, which I escaped from after only serving three years of my term. On the run, I went straight back to robbing banks and falsifying post office accounts to make myself thousands. It was easy money, man, but then my brother who was working with me squealed to the police and I was sent down to Wakefield prison for another seven years."
In 1980, after serving his time, Richard gave up villainy and, after a succession of dead-end jobs, eventually moved in with his girlfriend. "She was earning good money, so the deal was that I would concentrate on my writing." For seven years Richard's life became almost orderly before his dependence on alcohol and his wanderlust took over.
"Anyone who says he enjoys living on the streets is a fool," he snaps, "it's loneliness without peace. You've got two different hells, man. Up there, in the normal world, it's head above water-and I've been there for most of my life. But down here on the street it's a lower hell-a Dante's inferno. You have to learn quickly, otherwise you don't survive. Yet, when you're living on the streets you see so many gentle touches. I woke up one night to find this beautiful girl. She gave me a vase with a flower in it and pushed down the side was a five pound note. She kissed me on the cheek and before I could thank her she disappeared.
"I don't beg and I don't sign on. Never. I just busk with my spoons. I meet my girlfriend and child once a week in Lincoln's Inn Fields and every time I leave them, a little bit of me dies. But I can't walk in there drunk again. No, I love them too much."
Despite the vagaries and trauma of street-life, Lucky finds it preferable to a hostel. "A hostel provides shelter, but it's like living in a mad-house. The workers are allowed into your room at any time to rifle through your belongings, this leads to a total erosion of the spirit. When this branch of St Mungo's closes they will relocate me to another hostel where I might have to share a room with five others. I could end up sleeping next to a poor nutter who has been emptied out of an asylum because of the Community Care Programme. I'd rather sleep in a doorway and freeze to death."
Lucky is equally clear-sighted about what he wants about the film. "I don't give two shits about becoming a celebrity. Like most Irish writers I admire, I have a passionate ambition to get to the truth so what is shown on that screen must not be bastardised."