THE ACCIDENTAL OVERLANDER
Jan 05, 2007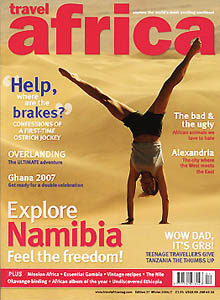 Sun on your face, dust in your hair, a heady whiff of adventure-and somebody else to do all the driving. If you're keen to tick off some of the continent's highlights and have a couple of weeks or more to spare, there's a lot to be said for travelling by overland truck. How much you'll be roughing it depends on the trip you choose, but one thing's pretty certain-you'll end up getting to know your co-travellers very well. Clive Grylls takes a big gulp of team spirit and gets ready to muck in.

I knew it was going to be an interesting trip as soon as I met Marie queueing up for breakfast in our hotel in Cape Town.
"Your name is Clive and you're a photographer," she said in a Lancashire accent as warm and soggy as a used tea-bag. "I can see you're alone, like me, and as the eldest person on this trip at 74 years I'm going to need some company. When we reach Swampland you can join me on a tandem sky-dive over the desert. Good. You can do the photos." As a die-hard lone traveller, I was rather taken back.
Outside, our bottle-green bus looked magnificent. At least one-third larger than most of its competitors, but with half the number of seats, it was designed with ergonomics and comfort in mind. The Rolls-Royce of all overlander buses? Well, not exactly: it was a Mercedes-Benz cargo freighter ingenuously rebuilt from the chassis upwards to accommodate a custom made passenger body.
Once inside, I placed my valuables in my own personal locker, sat down and stretched my telescopic limbs into the one-and-a-half metres of legroom between the next seat and me.
The library to my right was stacked with interesting biographies of Nelson Mandela, Hastings Banda and Kenneth Kaunda as well as books of all the great African travel writers including my favourite, Ryszard Kapuscinski.
There was as laptop in the corner for us to download our photos and a battery box to charge camera batteries or, heaven forbid, mobiles! And all around were large, easy-to-open gallery windows. From the front ones hung two laminated sheets marked: First photographic lesson. Learning about texture, shape and form.
And the other fifteen passengers? They were all well-travelled and differed hugely in background, nationality and age. But apart from darling Marie there had been little time for introductions. Still, twenty-one days of overlanding through South Africa, Namibia, Botswana and Zambia lay ahead of us, so I was bound to get to know them all.
I felt a less-than-gentle nudge on my arm. It was Ralph Toledo, a Miami-based American travelling with his family and his father-in-law, 'Pop' Romulo. "Is your sleeping bag thermally lined?" Ralph thundered, " because I've been told it can get darned cold during the night at Sossusvlei." Oh dear, I thought, I hadn't even got a sheet, let alone a thermally lined sleeping bag. I'd forgotten to pack them!
At the front of the bus, Jacques, our South African tour guide and photographic tutor, struggled to get our attention. First though, he had to reign in an unruly, unlit pipe that had assumed a joyous life of its own by surfing his lips.
The control he had over his attire was equally erratic. A pork-pie hat was perched precariously at the back of his head and he wore a holey, sleeveless vest and what was left of some baggy shorts.
After untangling the microphone he gathered some composure and addressed us. "I'm sorry we're a bit late starting but I couldn't find my tobacco. If anyone has accidentally picked up my travel notes then give me a shout. Now, does anyone want to try some biltong?"
By this time, Charles, our Kenyan driver had cranked the bus into first gear and we were off. Twelve hours later-having stopped briefly for a delicious lunch-we arrived at our first camp-site besides the picturesque Orange River on the Namibian border.
It was here that we learnt the fundamentals of overlanding: routine, discipline and teamwork. There can be no shirking of responsibilities and there's very little privacy. If you or your partner wanted a holiday of solitude with everything done for you then this is definitely the wrong trip.
We were each assigned our two-man spider tents and taught to put them up. Next we were placed in teams of four to fulfil on a daily basis a rota that involved preparing the food, washing up all the dirty utensils and cleaning the bus.
Joseph, our Kenyan chef, was the genial maestro of the kitchen. Unloading pots, kettles and chairs from the back of the bus he soon had a raging camp-fire lit and on our first night we feasted on barbecued steak and boiled potatoes with a separate pot of spicy lentils and rice for the vegetarians.
Unfortunately for me, the chocolate custard Joseph had prepared for dessert looked a lot like gravy. My medium-rare steak tasted a little sweet but I wolfed it down anyway.
Bedding down for the first night without a sleeping bag was not a pleasant experience. Night-time temperatures in southern Africa in July-the middle of the dry, winter season-plummet to barely above zero. My tent-mate, 'Pop' Romulo was 'cajoled' to lend me his thick winter coat to cover my shivering form.
Breakfast on the 'road' came early, never later than 7am. The early morning chill was offset by Jacques and Joseph's gentle but sarcastic banter as they goaded each other to produce the best cooked bacon and eggs and pan-fried toast. Needless to say the coffee was always piping hot and strong, their aroma complementing perfectly the wafts of Jacques lighted pipe.
Another morning and another destination to reach. Every day camp was broken down with military precision. There was no time for stragglers so teeth and faces had to be brushed and scrubbed with the minimum of fuss. Distances between camps was long. Arriving on schedule meant everything. Group bonding and camaraderie, even after our first day became a necessity, right from the start,
By day four we had travelled 1400km and arrived at sunrise to view the spectacular sand dunes of Sossusvlei in the heart of the Namibian desert.
Climbing up 'Dune 45'-so called because it is 45km away from the equally impressive Sesriem Canyon-was an arduous experience. So it was churlish of me to bet Cory, a strapping 27-year-old New Zealander, that I could beat him to the summit. Needless to say both he and his English girlfriend, Tessa, soon left me far behind as did most of the other members of the group. Mind you, nobody else was burdened with a twenty-kilo camera bag!
As the sun rose higher in the sky the ocean of dunes around us pulsated with colour. Areas that had previously been in shadow exploded like fireworks and were lit in every shade of red, orange and gold.
On day five we arrived in the town of Swakopmund in central Namibia. A two day stay in the municipal bungalows run by the town council meant 'comfy' beds to sleep in, guaranteed hot showers and a chance to try out 'adventure sports', such as quad biking. Marie survived her sky dive but, no, I didn't join her!
Laundry was done and photographs were downloaded under the expert eye of Jacques who administered critical but always useful tips on photographic technique. For me, it was a chance to settle back into 'civilisation' and explore this old colonial town.
In a local bar I had the chance to reflect on the events of the preceding days over a few Windhoek lagers. Sometimes, when we passed an interesting hamlet or vista in the course of our many hours on the road and there was no time to get out and explore, I'd been disappointed. The scene through the window of the bus had became a televisual documentary and only when we stopped did we become part of it. But, hey, that's overlanding. No other form of travel allows you to see so much in a relatively short time.
Days nine to eleven were spent in Etosha National Park. From our campsite at the Okaukuejo entrance we walked the short distance to a floodlit waterhole where we saw critically endangered black rhinos defend their calves from marauding hyenas. The next day, on a game drive, a male lion dragged a zebra kill to an alcove just in front of our vehicle and in perfect early morning light we photographed its cubs as they came out to play.
We went on to spend an outstanding three days in and around the Okavango Delta in Botswana, exploring the flooded plains and forests by mokoro. At one base-camp, situated on a deserted island, we camped under a giant sausage tree and took turns to entertain each other by singing songs and regaling tales of our previous travels.
That evening summed up African overlanding nicely. It's about intimacy, bonhomie and sharing the experience with new friends-and it's a real pleasure, even for die-hard lone travellers like me.