DISPUTED TERRITORY
Dec 18, 2008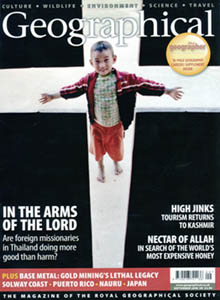 The ongoing conflict in the Indian state of Kashmir saw tourist numbers in the region slow to a trickle, effectively destroying the local economy. Recently, improving relations between Pakistan and India have given rise to a domestic tourism boom. But now that this conflict appears to have settled down, a new dispute has arisen, with those working in the local tourism industry outraged that foreign governments continue to advise their citizens to stay away.

The roads that lead away from my hotel are all choked bumper-to-oxcart with traffic, but that doesn't stop my rickshaw driver from trying to ram a way through. It's difficult to read on this precarious dodgem ride, but it doesn't matter, as I already know by rote the paragraph on the piece of paper I'm clutching.
"We advise (UK Nationals) against all travel to and through rural areas of Jammu and Kashmir', states the Foreign and Commonwealth Office (FCO) travel advisory, 'and all but essential travel to Srinagar. If you intend to travel to Srinagar then you should only travel by air. There continues to be a high level of terrorist violence in Kashmir, including a risk of kidnapping."
Twenty minutes later, I'm standing under a blistering sun at the J and K bus stand in Delhi waiting to embark on the 26-hour bus journey to Srinagar, a trip that will take me into the 'war-ravaged' Kashmir Valley-identified by other foreign consulates as a 'hotbed of terrorism'-and a journey often described as one of the most dangerous on Earth.
But all this hasn't stopped the route from being booked up weeks in advance-mainly by Indian families from other states, who once more feel safe enough to flock back to a region famed for its welcoming people, temperate climate, pine-forested slopes and soaring Himalayan peaks. The security is no more stringent than any other bus trip I've taken in India: there is just a cursory check of our tickets, and no-one asks us to reveal the contents of our luggage or verify our identities.
The mood at the bus stand is far from apprehensive. Indeed, the only sign of conflict before I begin my journey is when a gentleman arrives without a ticket and is told by the driver he can't travel on the roof.
I'm only one of two foreign nationals on the bus. My neighbour, noticing my FCO printout and perhaps whiffing a sense of insecurity on my behalf, tries to reassure me. "My name is Patrick Nunes and I'm a Catholic who has travelled up from Bombay," he thunders. "This will be my second trip to the Kashmir Valley and I feel 100 per cent safe there! The picture there is not the same as it was ten years ago, because today, the region is in peace! There has never been any Islamic extremism, just wonderfully friendly, secular people. Terrorism is now a worldwide problem. The advice from foreign consulates not to go there is Western propaganda."
COMPLICATED CONFLICT
The FCO and its foreign counterparts do have a point, however. Between 1990 and 2006, Kashmir has endured a complicated and messy conflict that has caused the loss of 60,000 lives. To fathom this conflict, it's necessary to understand the state's geographical and ethnic composition and to examine its recent history-a history that's knotted with more threads of external betrayal than any of its exquisite rugs.
The state is made up of three distinct regions: Jammu to the south, Kashmir in the centre, and Ladakh to the east. Overall, the ethnic mix is overwhelmingly Muslim (67 per cent) and Hindu (30 per cent). At the time of partition in 1947, given its geographical status and Muslim population, the state should, logically, have been included within the boundaries of Pakistan. However, because of its 'special status'-the British had never imposed direct rule-the final say was left to its autonomous leader, a Hindu maharaja. While he dithered, Pakistan pre-emptied his decision and invaded the region.
Without any army which to call, he asked the Indian government to defend the region. The government agreed to intervene on the proviso that the maharaja acceded the whole of the state to India.
The ensuing war left two thirds of the state under India's control, the remainder held onto by Pakistan under the name Azad-'Free Kashmir'. The end of hostilities came in 1949 with an UN-sponsored ceasefire that separated the state along the Line of Control (LOC)-a de facto border recognised by neither party. To this day, both sides claim the entire region.
Under the terms of the ceasefire, the Kashmiri people were promised the chance of a plebiscite to decide their future, but this has never materialised.
When Pakistani troops crossed the LOC in 1965, (and were subsequently routed), India used the incident as an excuse to consolidate its hold on the region internationally and reneged, finally, its decision to give the state the large degree of autonomy promised when it first took control. This, coupled with the anger generated by rigged elections held throughout the 1980's-including the arrest of pro-independence politicians-tipped the will of the people into open rebellion. In 1989, demonstrations became violent, peaceful 'separatist' parties such as the Jammu and Kashmir Liberation Front (JKLF) took up arms, and the 'conflict' began.
Almost overnight, the region was thrown into anarchy. New 'militant' groups sprung up monthly, some fighting for the right to join Pakistan, some fighting for independence, some just hell-bent on fighting each other, and all armed and funded by Pakistani agents who slipped across the LOC, eager to take advantage of the chaos.
In 1999, Pakistani incursions close to the LOC border town of Kargil brought India and Pakistan-by then nuclear powers-to the brink of an all- out war. Since then, relations between the two countries have thawed, helped by a series of annual meetings called the Composite Dialogue Process-initiated in 2004-that have promoted peace and reconciliation, strengthened economic ties and promoted a desire between the two countries to unite against local terrorism.
At the last meeting in May, the leaders of both countries stated that although "progress on the core issue of Kashmir" had "not been adequate", they would "agree to disagree" while looking for" innovative ideas" to solve it.
During the past four years, the state has returned to normality, despite isolated flare-ups. Huge swathes of the countryside have been cleared of militant control, including all the major tourist destinations. Separatist groups such as the JKLF have long since renounced the armed struggle, and domestic tourist numbers in the region have returned to pre-conflict levels.
PARADISE ON EARTH
We reach Srinagar after a bone-shattering rock-and-roll ride along some of India's most isolated mountain roads. The only incident of any note involves a woman who heads behind a bush for a toilet break, slips and has to be rescued from a ditch.
In the afternoon, I meet Sarmand Hafeez, J and K's tourism's joint director of tourism, and he wastes no time in selling me the region. "Apart from handicrafts and agriculture, tourism is Kashmir's only industry and it needs foreign visitors to keep it alive," he explains. "What other destination can offer such diverse choices: a stay on a unique house-boat on Dal Lake, the chance in Gulmarg to ski down the world's highest accessible slopes or a trek through a pine-forested wilderness? Only Kashmir-and that's why it's called a paradise on Earth."
Before the conflict began, Kashmir was one of India's most popular tourist destinations, with revenue from tourism accounting for 90 per cent of the state's GNP. In 1988, 7,400 British tourists visited the region, 3.7 per cent of the total who visited India as a whole. In 2006, the number had dropped to 1,690: 0.23 per cent of the total. The figures for the USA, Australia and the rest of Europe (which all advise their nationals against visiting the region) are equally bleak.
PHANTOM PHOTOGRAPHERS
The early morning mist makes the houseboats shimmer like ghosts reflected in a mirror. I'm paddling on a shikara toward the floating vegetable market held daily on Dal Lake. "Before the conflict there were so many tourists photographing the market, it was difficult for the farmers to trade," says Tariq, my boatman. Sadly, today, I'm the only tourist present to watch this ancient spectacle as traders jump from boat to boat to haggle any deal, weighing out their wares on enormous antique scales.
Over a pot of green tea and freshly kiln-baked Kashmiri bread, Tariq tells me his problems. "Our boats are unique to the lake and our job revolves around servicing the houseboats with everything they need," he explains. "When the tourists stop coming, the houseboats are empty and we struggle to survive. Our shikaras only last ten years, and the price of pine-wood to replace them has quadrupled. If things don't pick up soon, our business will be finished."
After two days in Srinagar, I bump into my first foreign tourists, Paul Stoddart from Darlington. "I came here because I wanted to find out for myself what the situation was like," he says cheerily. "I was aware of the FCO advice, but everyone I've met on my travels through India who has visited the region has recommended it highly. I feel as safe here as any other place I've travelled to."
At the office of the state coalition government, I speak to Taj Mohi-Ud-Din, the minister for consumer affairs. "I have no alternative to believe that Kashmir is unfairly being singled out," he says gruffly, "because foreign embassies still haven't grasped that terrorism is a worldwide problem affecting even their own countries. We have told them that Kashmir is once again a safe destination and that the situation on the ground here is very positive. However, you can bring a horse to water, but you cannot force it to drink."
On only two occasions during the conflict have foreign tourists been deliberately targeted by militant operations. In 1994, two British nationals were held hostage by the pro-Pakistan separatist group, Harkat-ul Ansar. They were released unharmed seventeen days later. Then, in 1995, six foreign tourists-including two Britons-were kidnapped while trekking near Pahalgam by an until then unknown group called Al Faran. One tourist escaped and another was found beheaded. The others were never seen again, despite the presence of 250,000 soldiers in the region.
The entire separatist movement-which was widely sceptical about Al Faran's origin and motivation-united to condemn the kidnapping. "I do not believe they are in any way committed to the Kashmiri struggle," said Omar Farooq, a prominent 'separatist' leader, at the time.
MEAT IN THE SANDWICH
Sitting aboard his beautifully walnut-furnished houseboat, 67-year old Ahmad Nadroo confides to me wistfully that in 1989, virtually everyone wanted independence because we were sick of being the meat in the sandwich between India and Pakistan. Now, after all the problems, the will of the people has been broken, and the vast majority of the Kashmiri people realise that we are better off being part of India. All the militants groups were corrupt; they've made their money and forgotten their fight. Foreign tourism is beginning to pick up slowly again, and now all we wan t to do is to devote our energy to welcoming them back."
On the way to Pahalgam in the heart of Kashmir's trekking region, I pass roadside stalls full of cherries and apples, shops laden with handmade cricket bats and fields blooming with violet saffron.
Above the town on a lush, green meadow known locally as 'little Switzerland', I smoke a water-cooled gujir pipe of scented tobacco with a pony wallah by the name of Mohammed Shaban Lone. "Our region depends 90 per cent on revenue earned from trekking, so when the foreign tourists stopped coming, we had no choice but to sell our ponies or to work as casual labourers," he tells me." Even the small, remote villagers in the mountains suffered because it was their produce that fed the trekkers. Although the domestic tourists are returning, they just use our ponies to ride around the outskirts of town. When the Western tourists went trekking, they often used us for weeks at a time."
On the way back to Srinagar, I stop by the Lidder River to drink chai made from goat-milk with an old toothless shepherd. "Kashmir has always welcomed strangers because it's part of our tradition."
Then, clutching my hand and fixing his green eyes on mine, he says: "In our language we have a word called Kashmiriyat, which means the tolerance of all religions. So now, go back to your country and tell all your people that the Kashmiri people will look after them like a brother, if and when they arrive."