MAN EATERS OF MUMBAI
Feb 15, 2006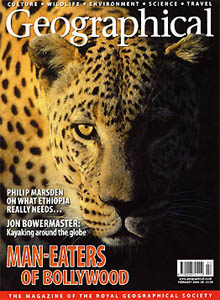 50 People Killed Since 2000
23 Leopards Caught Roaming The City
World's Highest Leopard Density
It sounds like a pitch for the nearby Bollywood movie industry. The leopards of Mumbai's Sanjay Ghandi National Park have started leaving the reserve and attacking and killing the locals, prompting widespread fear among citizens and highlighting the pressures placed on the park by an ever-burgeoning city. But could short-sighted park management be to blame.
Every day for fifteen years, at precisely 4am, 60-year-old Kuldeep Singh would leave his Mumbai home to hike alone along a steep wooded trail that leads to a plateau overlooking emerald valleys and turquoise lakes. Once there he would sit in isolation practising yoga until dawn. It was a ritual that afforded him the solace to contemplate his working life as a busy advocate.
On 12th of June, however, Singh didn't make the daily walk alone-nor did he reach the plateau. Two thirds of the way up the trail, a stealthy, invisible assailant began to track him. Soon after, his life was brutally ended.
"When we found Kuldeep's body on a rock, his throat had been severed from ear to ear," says MK Chowdhury, a retired chemist and a friend of Singh's who happened to come along the path some thirty minutes later. "Immediately, I went down for help, and when I came back, his body had been dragged down a ravine and his upper leg had been eaten to the bone. I cannot blame the leopard- it probably hadn't eaten for days. These hills are now bereft of its natural prey."
In the past five years, more than fifty people have died and many more have been mauled by leopards roaming wild in Mumbai, India's economic capital and most populated city - the world's fifth largest. The leopards stray from Sanjay Gandhi National Park(SGNP), commonly known as Borivali National Park, 103 square kilo meters of jungle that lies surrounded by the city's overcrowded areas and desirable northern suburbs. The only large protected area to be located inside a major metropolis, SGNP holds more than 1,000 species of plant, 251 species of bird - more than in the entire UK - and 40 species of mammal. It also boasts the world's highest density of leopards.
The Park's two major lakes, Vihar and Tulsi, provide eight per cent of Mumbai's drinking water, while its forests act as a vital sink, absorbing the city's choking pollution. Some call SNGP the "lungs of Mumbai", and without it, scientists believe the city would drown in its own poison.
Despite this, the park has always had its detractors, who argue that one of the world's fastest-growing cities-with little room to expand and a chronic housing shortage-can ill afford to devote such a large area to nature. The park's real estate value, they counter, can be counted in billions of rupees and thousands of jobs created. The rationale has always been that if a similar natural area existed within a major Western city it would have been quickly developed.
So, over the past fifteen years, vote-hungry local politicians have allowed the park's integrity to be compromised. More than 60,000 slum dwellings-housing some 300,000 people-and 3,000 commercial buildings were built illegally within the park's confines over an area of 200 hectares. Meanwhile, chic high-rises have also sprung up along the park's boundaries particularly in the past five years, to encircle it, thus removing what was left of its vital buffer zones.
CROUCHING SQUATTER, LEAPING LEOPARD.
As humans encroached on its turf, so the leopard was to transgress the national park's increasingly porous boundaries. The population of the leopard's natural prey-wild pig and chital deer-began to dwindle, victim to poaching and forest fires started deliberately to clear land. Faced with a food shortage, the world's most versatile felid took to hunting on the fringes of the slum villages, preying largely on the stray dogs that roam in packs among the uncollected rubbish. A study of the SGNP leopards conducted by biologist Ravi Shellum for the Wildlife Institute of India concluded that, based on examinations of their scats, on average, feral dogs made up 60 per cent of their diet.
Hunting so close to human habitation have meant that some leopards have lost their natural fear of people, leading to incidents where children have been snatched from their homes while their parents slept. Other attacks, such as the one on Kuldeep Singh, seem to have been more opportunistic-Singh was simply in the wrong place at the wrong time.
In June 2004, as the monsoon season was starting, leopards killed ten people- by far the highest numbers of fatalities for a single month since the attacks began. More importantly, most of the attacks occurred outside the park's boundaries, and the city's municipal and forestry officials-now faced with a crisis rather than a dilemma-were forced to act.
Expert trappers were brought in to catch the 'rogue' cats and bring them in alive (leopards are protected under India's strict wildlife laws, which cover even man-eating leopards). Such was their success that in the last six months of that year, 23 leopards-a high proportion of the park's total population-were trapped...and not in the park, but in the city.
The trappers' efficiency created another problem-how to tell which of the captured leopards had turned into 'man-eaters'. Identification by DNA analysis wasn't an option as officials had neither the resources nor the expertise.
At first it seems illogical that the rise in human deaths at the claws of leopards has occurred since 2000-and that it's risen sharply since a state-sanctioned reduction in human encroachment into the park. Before 2000, animal-human conflict within the park was rare, even though the leopard population was just as high. In 1997, a High Court granted the Forestry Department the authority to evict illegal squatters, which they carried out between 1997 and 1999, reducing slum dwellings by two thirds and closing all industrial businesses in the park. Given that the human disturbance in the park had been reduced, why then have the attacks on humans increased so sharply over the past five years?
Most experts agree that one of the root causes for the trend was the closure by the building boom of important corridors that had previously allowed leopards to migrate and disperse to other suitable habitats. Hemmed in by development, young leopards seeking to establish their own territories had little choice but to move into industrial grounds and even gardens on the park's periphery.
"The major driver for leopards leaving the park is not people but other leopards, because the park cannot sustain enough territories to support them, "says Ravi Chellam of the Wildlife Institute of India. "At best it can only hold six or seven leopards."
Incredibly, between 2001 and 2004, annual censuses placed the mean leopard population at 38. And these surveys didn't take into account the cats that had established territories beyond the park perimeter.
During these years, leopards at large that were reported by the public were routinely trapped and released back into the core area of the park, irrespective of whether an attack on a human had occurred in the vicinity of where the animal had been caught.
Chellum argues that this policy of local translocation may be the cause of this sudden 'spike' in leopard attacks over the past five years. Leopards have a very acute homing instinct, and once caught and translocated to another area have been known to travel hundreds of kilometres back to the territory they had established before they were trapped.
"At 103 kilometres, the park is just a small island. So if you catch a leopard outside of it and put it in the middle, for a leopard it's a leisurely two hour amble to return to where it came from," says Chellum.
A further problem arises, Chellum says, when a leopard returns to its former territory to find it occupied by another transient juvenile looking for its own territory and who has moved into the vacant territory only hours after the original leopard was trapped. Studies in Africa and other parts of India have shown that when this has occurred, the behaviour of leopards suddenly becomes stressed, with attacks on humans much more likely to occur. It's for this reason that the translocation of leopards has been discontinued in most other areas around the world. In India, however, it's still the commonest way of dealing with 'problem' animals.
Injured or pest leopards caught in other parts of Maharashtra, the state of which Mumbai is capital, are taken to the park's specialised rescue centre for veterinary rehabilitation. Many observers have accused park authorities of allowing SNGP to be used as a 'dumping ground' for the rehabilitated leopards, now reliant upon humans for sustenance and no longer fearful of them.
"There seems to be a suggestion that prior to the attacks that occurred in June 2004, when the park's troubles were at their highest, that leopards caught in other parts of the state were released into the park," says Chellum.
This charge is strongly denied by AR Bharati, the recently retired park director. "Let me make it very clear that leopards brought in from outside were never released into SNGP. They are all in the rescue centre in cages," he tells me unequivocally.
However, when I went to photograph the caged leopards, the present director, Doctor Munde, refused permission. He also prevented me from interviewing the park's veterinary officer, Dr JD Batwe. "Why would you want to interview him?" said Munde. "His only job is to feed the animals." In truth, Batwe would have had to supervise every leopard release in the park.
CATS, COVER-UPS, CONTROVERSY.
Two sets of figures that I obtained collating the leopards caught, released and held captive in the park for 2004 differ in vital areas. The first figures, given to me by Munde, show that of the leopards caught that year, ten were released back into the park and that nine were held captive in the rescue centre.
Figures given to me by PS Yaduvendu, Munde's manager, were seven and twelve respectively. Both are supposedly official Department of Forestry figures for that year. Mysteriously, the figures show that no leopards were trapped for three months leading up to the escalation of attacks in June and only one leopard was released-even though in previous months in 2004 and all through 2003 there had been regular trappings and releases.
When I emailed Yaduvendu and asked him for figures for 2004, detailing the dates and numbers of leopards transferred to the rescue centre from other forestry divisions and whether any of these animals were ever released, I received no answer. Environmentalists and scientists alike believe that there is a cover up.
At a meeting of the State's Wildlife Advisory Board in October 2005, the principal chief conservator of forests stated that no more releases of captured leopards would be made in Maharashtra. "The problem is that no one really knows whether this policy will be implemented since the Forestry Department never shares routine information with the public," says Bittu Saghal, editor of Sanctuary, India's leading wildlife periodical.
A 'study project' recommended by the Ministry of Environment and Forests and set up by the Bombay Natural History Society in November 2004 to replace the remaining leopards in SGNP under a continuous monitoring regime involving the use of microchip insertion, DNA sampling and scat analysis, has stalled through lack of funding.
Today, there are 25 leopards in Mumbai's national park. Although last year there were only two reported fatalities, if leopard numbers increase, they will again move out of the park to establish new territories. Without proper scientific management of the park there is bound to be another deadly upsurge in leopard-human conflict.