INTO THE EMERALD FOREST
Dec 28, 1998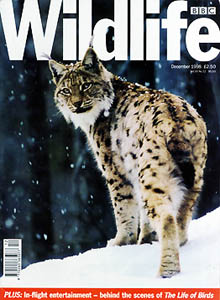 Nothing can prepare you for your first time in a Latin American cloud forest, says Clive Grylls, who visited a ground-breaking project in upland Ecuador and found that tourism and conservation can work hand in hand.
When I arrived at the Maquipucuna Reserve, high up in the mountains of north-west Ecuador, the light was already fading and the nightly chorus of frogs and cicadas had begun. As I jumped down from the truck, the last rays of the setting sun shone through a gap of cloud like a laser beam, turning parts of the forest canopy an electric green.
After being shown to my spacious and airy room, I was given a guided tour around the lodge. Traditionally designed and covered by a palm-thatched roof, the Maquipucuna Lodge is built from local bamboo, and its three-floor, open-plan structure has spectacular views of the surrounding forest.
Later on, sitting on the balcony watching carrolia bats dance erratically in front of me, I was joined by Dave Shaw, a rainforest consultant, who introduced me to some of Maquipucuna's insects. "On the lampshade we have an assassin bug, so called... well it's obvious," he said with relish. "Here, an owl butterfly. Look at the beautiful camouflage on its closed wings. But this is the most interesting specimen: a Dobson fly. It can rotate its head through 180 degrees and nip you with pincers from any angle." This, however, did not stop him from picking it up.
We were called for dinner and tucked into a hearty meal of pasta, salad, spinach and carrots grown in the lodge's organic garden. This garden and adjoining tree-nursery was set up in 1995 as a demonstration area to encourage local farmers to establish their own agroforestry systems.
The next morning, I was introduced to Pancho Molina, my guide for the day. Poncho used to make his living by hunting in the forest. Now his knowledge of wild animals is utilized by the lodge, which employs him as a guide.
We set off at a brisk pace and were soon in the hot, humid cloud forest. I was amazed by the variety of opportunistic epithytes, such as mosses and ferns, growing on tree branches. Then Poncho pointed out a large heliconia plant on one of the branches, with its characteristic yellow flowers half covered by bright red sheaves. Poncho told me that, if we were patient, it would be visited by one of the reserve's 29 species of hummingbirds. Sure enough, after a few minutes, a male green-crowned woodnymph perched close by on a branch, cocked its head to one side as if savouring the smell of nectar, before zooming in for a drink.
Deeper into the forest, the trail became much steeper, and so we decided to take a rest. Pancho suggested we eat our packed lunches at the foot of a 'palmito' palm tree beside the trail. The special attraction of this tree, he explained, was that he had recently seen footprints of a puma and a northern tamandua (a type of anteater) all around its base. Only a proper stakeout, though, would have given us a chance of seeing such shy and elusive creatures.
After a five-hour round trip, we returned to the lodge and I spent the afternoon dozing in the hammock, happy in the knowledge that I had another week to explore and savour the cloud forest.